After having such a productive Saturday, the rest of the weekend was kind of downhill. By Saturday night, I was suffering from a full blown back spasm. It completely put me out of commission for the rest of the weekend. I ended up just mostly sitting on the sofa reading on Sunday and Monday. I did finish the second book in the
Outlander
series called
Dragonfly in Amber
. I've now started the third one,
Voyager
. I just can't believe how good this series continues to be. I'm glad I had something wonderful to occupy my down time. Luckily, it was stormy both days, so I didn't worry too much about not getting to swim. I may try to do that either this afternoon or tomorrow afternoon, depending on the weather. I have heard back from the pet sitting business, and it looks like this may turn into something promising. Everyone keep their fingers crossed for me! Now, I just have to take a quick break and say:
HAPPY BIRTHDAY MAMA!!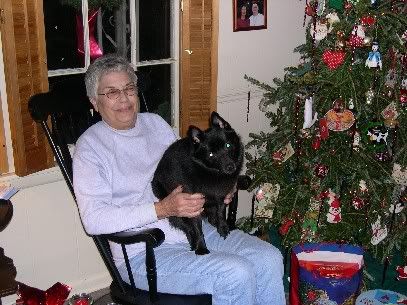 Mom and Bear, Christmas 2003 Today is my Mom's birthday. Casey is going to cook one of her favorite meals for her tonight. T-bone steak, baked potatoes, and we have cake to eat too. I am also going to take her out to one of her favorite restaurants called, Princeton's Grille, when she goes for her checkup in Nashville on Monday. Looks like she is stretching this birthday into a week long event! Anyway, Happy Birthday Mama!! I love you!! That's it from the peanut gallery today. Everyone have a great Tuesday! Toodles!