We leave for Cincinnati in the morning. I love going on trips. I do not, however, enjoy preparing for them. It seems that I'm always a victim of "the best laid plans". I always say, "oh, I'm going to pack the day before, get the oil changed, leave on time, etc." I've never managed any of those things yet. Today, once again, I'm hoping to do better. Casey and I are going to try to knock out just a few things during lunch today. My goal: have the car washed and vacuumed. We'll pretty much be forced to leave on time, since we have special dinner reservations tomorrow night. No lollygagging this time. We've got such fun things planned to do, while we're there. We are going to the farmer's market, the aquarium, and of course the
Moody Blues
concert. It's shaping up to be a whirlwind weekend, with little time left for rest.
When we get back, I won't even have time for post trip depression. Casey and I are going to spend the better part of Halloween winterizing the house. I'd like to NOT spend my entire life savings paying heating bills this winter. Afterwards, we'll settle in for all of the trick-or-treaters, while preventing either Bear or Fergie from dashing out the door. That's one of the only things that I DON'T enjoy about Halloween. It's such a bark fest, when the knocking starts. I didn't happen to get their pictures made last night. I was so busy with my trip list. I'll just have to post their pictures, when I get back next week.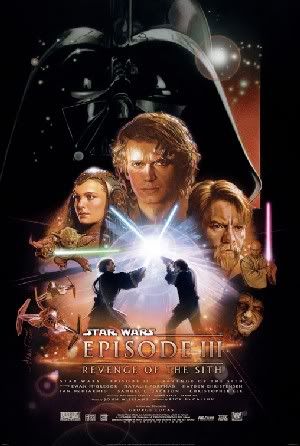 Tuesday is going to be a really fun day as well. November 1st is the DVD release of Star Wars Episode III: Revenge of the Sith. You all know how much I've been looking forward to this. I can't wait to see all of the bonus features, especially the deleted scenes. A lot of those were actually in the novel, but cut from the movie for some reason. My personal opinion is; they should have left them in. It really does help tie the whole story together. Many fans have complained about the weak plot line, but haven't read the novels. I've read all of the prequal novels, along with the expanded universe novels in between them. They really do add so much more to the story. I'll probably have my own copy in my hot little hands by lunchtime on Tuesday. That night, I'll be attending a DVD release party. A small group from the 501st Legion, Southern Outpost , the Rebel Legion , and Nashville After Darth members are celebrating the event by making it a Toys for Tots event. Casey and I have several friends in these groups, so we'll be at the event. If you donate a toy, you can have your picture made with Jedi, Stormtroopers, Boba Fett, and many other Star Wars characters. So for any of you that are Star Wars fans and are close to the Cool Springs Mall area Toys R Us, come on out and join the fun! I'm sure that I'll have a slew of pictures to post from that event. It's going to be such fun.
I'm going to have so much fun in the next week, that there'll be no living with me for quite some time. I'm going to do my best to get a couple of AudioBlogger posts done, while I'm gone. Every one have a great weekend and a good week. I'll be back next Wednesday!