So far, my 2005 can be summed up in one word.....C-R-A-P-P-Y!! It all started about the middle of January and has continued right through the past weekend. I've tried not to rant, rave, and completely lose my mind and not to bog my blog readers down. But sometimes, you have to be honest with yourself, as well as your friends. Here's all the trouble in a nutshell. Casey had been offered the fabulous, wonderful new job. They had even gone so far as to salary negotiations. It was a done deal. Casey had put in his notice at his old job and worked out his notice. The day before he was to start his new job, they called and recinded the offer. He tried to go back to his old job, but alas, no luck. So Casey is jobless right now. To complicate this matter this past Saturday evening, Casey fell and broke his arm. So, we spent most of the night in the ER getting him fixed up. Because of the type of break he has, we have to go and see an orthopedic specialist tomorrow, to see if his arm will have to be set surgically.
Sunday, my oldest dog, the cocker spaniel Lola, started acting sick. By Monday afternoon, she was VERY sick. Just laying around and not doing much of anything. It got to the point that I was picking her up and carrying her outside to potty. I had made an appointment at the vets' for first thing Tuesday morning. She was diagnosed after blood work and x-rays, as is the case with a lot of older dogs, with congestive heart failure. The vet was really nice, and didn't think it had progressed to the critical point. She prescribed 4 medications to put her on. She was put on a heart medication (because of her enlarged heart), a diuretic to reduce the fluid, an antibiotic to reduce the chance of infection, and an eye medication. We have to take her back in 2 weeks for a recheck. If all goes well, and she recovers from the acute episode, she will stay on the heart med and diuretic for the rest of her life. The good news is, she will be able to live the rest of her life fairly normally on the meds. I just talked to Casey a while ago, and he said she was breathing more normally today and she had been up and about. I'm just keeping my fingers crossed for now.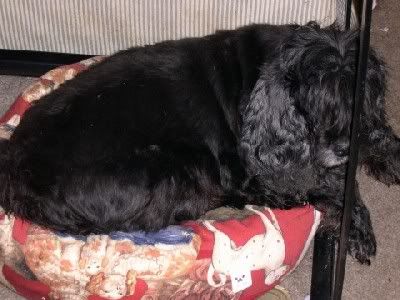 One good thing did happen, Jennie from Kindred Spirits called, and I will start my part time job there this coming Monday. I'm really looking forward to it, and I'm sure that I'll enjoy it. I will be away tomorrow, but by Friday's blog post, I will try my best to have a better attitude about everything. I just ask you, my readers, to bear with me, and if I might be so bold to ask for prayers and good thoughts for my family in the days to come. Sometimes, I just need all the help I can get.