With all of our destinations visited, it was time to start sailing back to Miami. That Friday, Casey and I slept in. It was the first day that we'd done that, and it really felt good! When we got up, we went to the main dining hall and had breakfast. I had a tasty ham and cheese omelet and some very good hashbrowns. Much, much better than Rosie's offerings for breakfast. Then, we wandered around the ship and mostly just watched people. One of the funniest things on our cruise was that there was a Santa Claus convention on the ship. There were about 30 guys that ALL looked just like Santa. Their group was called "Santa On Vacation". Everytime someone asked their name, they would reply, "Santa Claus". When someone would ask where they were from, they would say, "the north pole." Too funny! We had lots of fun watching them compete in deck contests and go back and forth from the pool and hot tubs. Talk about the leverage the parents on that ship had!
Views of the ship.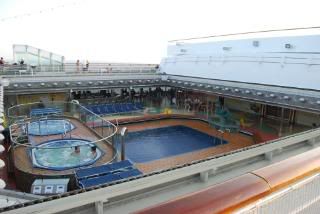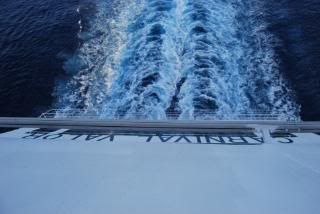 Balancing our "Sail and Sign" card.
Santas on Vacation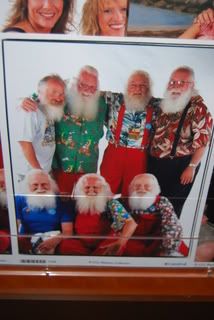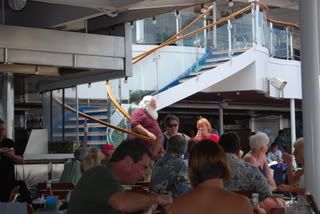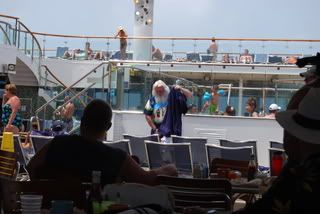 Later that afternoon, I participated in "On Deck for the Cure". It was a 1 mile symbolic walk/run to raise awareness and funds in the fight against breast cancer. There was a good little group of people, and it was a lot of fun. They do this run on every ship in the Carnival fleet and have raised a good deal of money so far.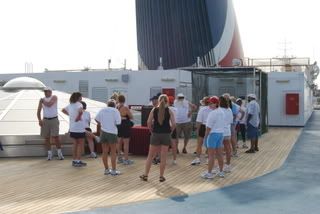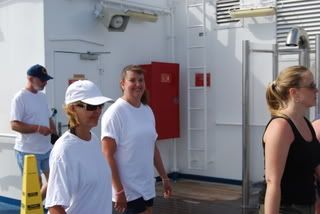 Friday night's dinner was a formal night. It was our second one. The first was Monday night, which I forgot to mention. We had pictures made the first night. Then we found out one picture was so expensive to buy, that we opted not to have one made the second night. All I have of the second night is the snapshot of us with our servers, Rico and Armando. Here is the one from the first formal night.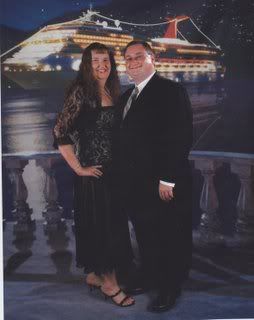 After dinner, we went to a show. It was an all 80's review, and it was REALLY good and a lot of fun. After that, we stayed to see the comedian. Very funny! It was a bout 2 a.m. when we finished, so we decided to call it a night. This was what was in our room Friday night.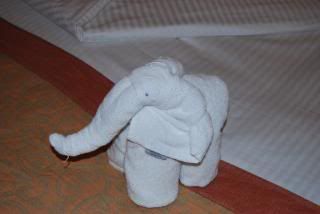 The last day, Saturday, was pretty uneventful. We went back for breakfast and lunch in the dining hall, since the food was fantastic there. We wandered around the ship some more, picking up last minute souvenirs to bring back home. We went back to the room and got everything packed back up, so we wouldn't have to do it Saturday night. That afternoon, at sunset, Casey got some BEAUTIFUL pictures from the ship, an some of me stretching after the run.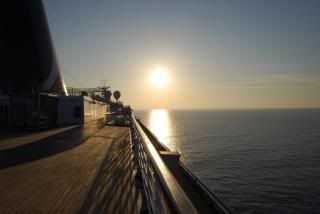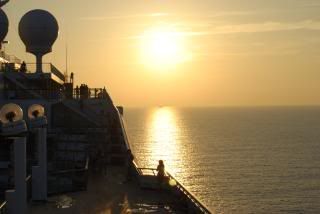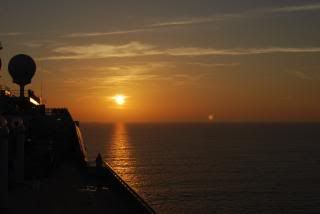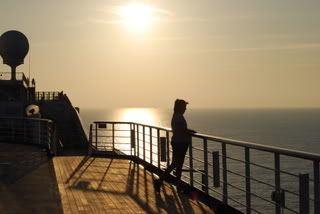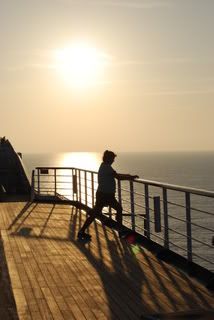 We found this, when we decided to call it a night on Saturday.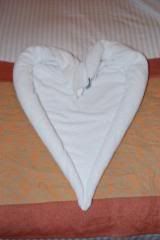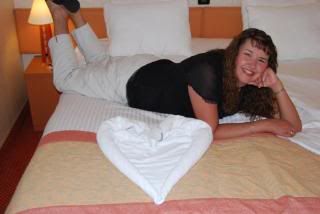 All too soon it was Sunday morning, and we were pulling into port in Miami. Our cruise was over. It was one of the best vacations that I've ever had! We are already planning to book another one for 2010, and I can't wait.
At dawn pulling into port in Miami.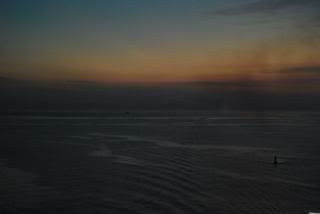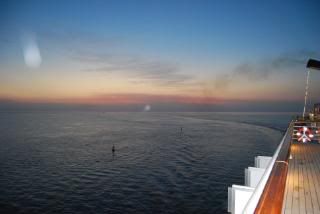 Tuesday, our short stay in Ft. Lauderdale....