Tuesday was a day at sea, so hopefully, this post will be a little shorter than yesterday's, but don't hold me to it. The ship was making its way from Nassau to St. Thomas Virgin Islands. We had picked up speed and the wind was blowing too. Even though Casey and I had planned to sleep in, we were up by 6:30 a.m. After breakfast at Rosie's, we decided to wander around the ship some more.
With the ship's speed and the wind blowing, THIS is what we all looked like on deck.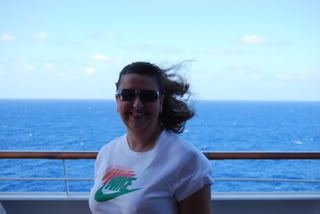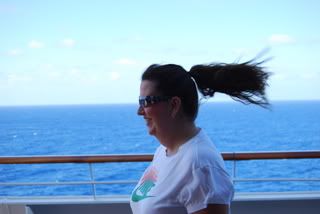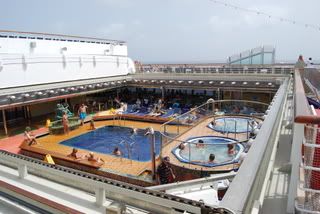 I was lucky. I never really suffered from any seasickness with nausea. Because of the speed and the wind, the ship would rock from time to time on Tuesday. Every once in a while Casey and I would run into a wall or door, when we were walking around. About mid morning, we went to a program on the shopping deals that you could get in St. Thomas and St. Martin. We also received coupons for a free 7 charm bracelet from the Diamonds International stores on these islands, a free 1 carat midnight sapphire, free necklace, and other goodies. All we had to do was go by the stores and present our certificates. (I did manage to get all of my freebies. Casey had my sapphire set for me in a beautiful white gold ring.) I dealt with the rocking pretty well, until mid afternoon. I guess my poor brain had had enough, and I started to get pretty dizzy. Thankfully, no nausea. I decided to go back to the room and take some Bonine, since it said it would help with the dizziness. Luckily, it did. Since we had gotten up so early, we decided to take a nap around 2:00. We both must have been exhausted, because we slept until nearly 4:00 p.m. Since we had napped through lunch, we were a bit peckish. So, we went in search of something to eat. Unfortunately, about that time, everything was closed getting ready for the dinner hour. Casey spotted the Java bar, and I was able to get a bottle of water and this wicked chocolate cake. It was about 5 layers, and the icing tasted like fudge. It was SO SO yummy! I guess they figured they couldn't lie about how rich it was, because they called it Fat Chocolate Cake. I was only able to eat about a fourth of it, and then Casey had to help. Even with help, we could only eat about half of it. Casey managed to grab a bite at the sushi bar, so we were set until dinner.
Sitting on the Promenade Deck eating sushi and Fat Chocolate Cake.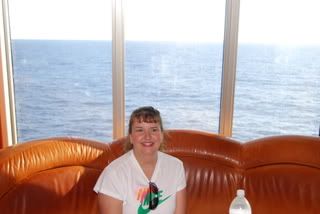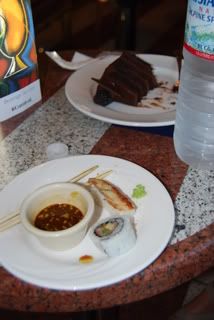 Late that afternoon, I decided to take a sunset run. Talk about beautiful!! Like I said before, that was one of the best parts about running on the ship. The view. Little did I know, Casey had snuck up to the track and was taking pictures of my run and the sunset.
Cooling down from the run.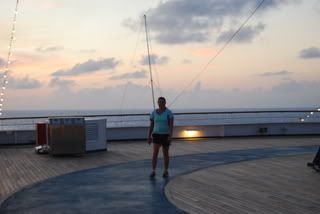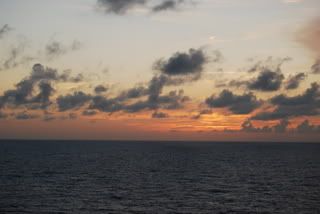 Every night, Carnival shows a movie on the jumbo tron. We decided to just to have something light for supper and skip going to the dining room (the only time during the week). We found out that they were showing
Transformers
that night, so we decided to go, even though we had already seen it. It was just like being at the drive in on the ship!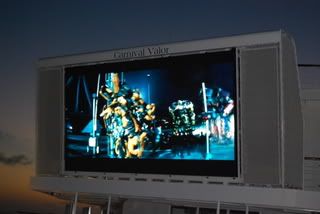 It was pretty late when it was over, so Casey and I decided to just head back to the room and rest.
Our towel animal for the night...Piggy!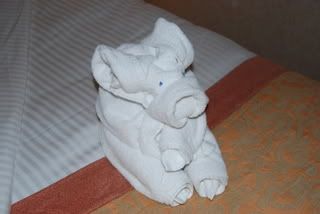 T.V. was SO weird on the ship. Their broadcasting affiliates were from Denver, Colorado. I can't figure out why, because it seems they would broadcast Miami or something. Because of this, all the programming ran 2 hours later, and we managed to catch
American Idol
and
Hell's Kitchen
. We called it a night after that, since we had a port day on Wednesday. Well, I figured this post would be shorter. I see it didn't turn out that way. Sorry if I'm boring you guys. I guess I'm doing this for myself as well. I want to have a written record of everything we did, before I forget details. Thanks for reading! Tomorrow, St. Thomas VI......