The ship docked in St. Thomas VI a little before 9:00 a.m. Casey and I had decided to go to Rosie's and grab breakfast, before we went through immigration. Since St. Thomas is a US territory, and we had been to the Bahamas, we had to go through immigration to debark from the ship. So while everyone was rushing the immigration line, we sat and enjoyed a tasty breakfast. The view was breathtaking just from the ship. It looked so much like I had always pictured Monte Carlo.
Views of St. Thomas from the ship.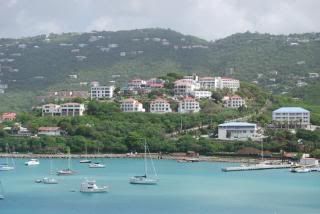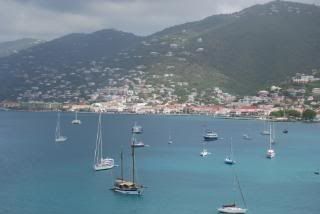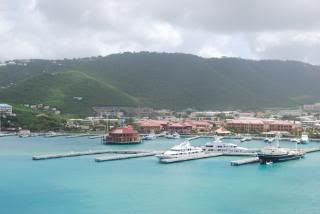 We managed to make it off the ship by about 9:30 a.m. We hopped on a taxi and headed over to the main market place at Charlotte Amalie. We had been told that out of all the places to shop on this cruise, St. Thomas was by far the best. As soon as we got out of the taxi and headed for the shops, we got stopped by a guy who wanted us to do a contest. Incredibly, we both won a prize. I supposedly won some money. All they needed was my credit card, and they would make a replica of it with my funds. Yeah. Right. HAHAHA! What a scam! It was really hot and humid there. I guess it wouldn't have been so bad, if we had already had hot temps here. The shop owners in St. Thomas REALLY want you to buy from their shops. The run out in the street and try to convince you, drag you, or lure you in with coupons. This even went for the convenience stores. They are so pushy that I felt harassed. I know that they depend on tourism, but WOW!! This was the only negative experience that I had anywhere that I went. At the shopping program we attended we were given a list of the very best shops to do business with. They were so good, in fact, that the ship would guarantee your purchase. Casey and I went to look for Diamonds International to pick up my free charm bracelet and my free charm from St. Thomas. We also made a quick stop into Venetian Jewelers to claim my free 1 carat midnight sapphire that Casey had set for me. We stopped by another jewelery store, which I can't remember the name right now, and claimed the free necklace. We stopped in AH Rise, a really cool store with jewelry, liquor, and LOTS of other really cool stuff. I also got a t-shirt from
Del Sol
.
Del Sol
is a really cool shop, where everything they have changes color in the sun or UV light. They even have nail polish that changes. After we were done shopping, we grabbed a taxi back to the ship to drop off our stuff and change into our swim suits to go to the beach.
The marketplace at Charlotte Amalie in St. Thomas VI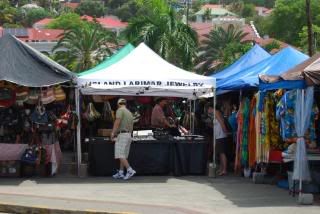 In front of the Del Sol in St. Thomas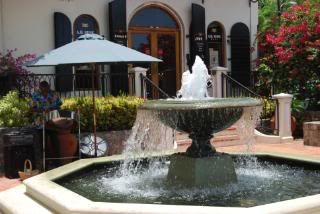 We wanted to go to Maegan's Bay Beach, which is one of the top 10 beaches in the world. We managed to get a really sweet taxi driver named Earline (prounced Er line like a straight line). She had driven tourist taxi's for 30 years. She gave us some history about the island and lots of good information. The drive took us over the really narrow, winding roads of the mountains on the island. The scenery was breathtaking! We were all busy trying to take pictures. She dropped us off at the beach, and we asked her to come back and pick us up at 5:30. I can definitely see why Maegan's Bay Beach is a top beach. It is BEAUTIFUL!! It was a little crowded that day, because of all the cruise ship tourists, but it was still GREAT. Since it's a bay, the water was nice and calm. It was super warm and really easy to swim there. There's a $4.00 charge to get into the beach. They use the funds for the upkeep. There's a little restaurant with food and drinks right there, along with picnic pavilions and a shower/restroom area. It was very clean and well kept. Maegan's Bay was one of the highlights from my cruise!
Scenes from Maegan's Bay Beach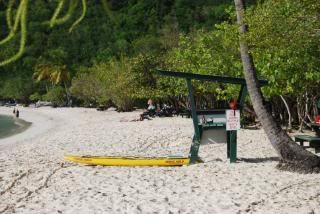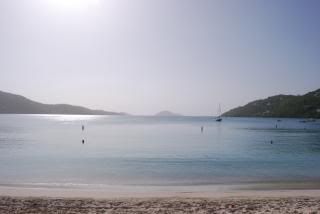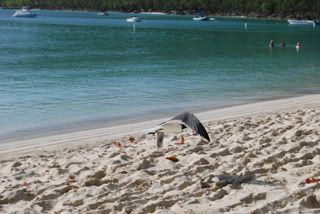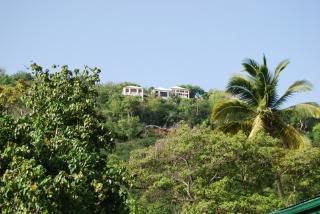 Me in the distance playing in the water.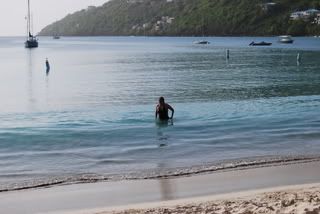 The time just flew by at the beach, and soon it was time for Earline to pick us up. She had noticed that we were all scrambling to take pictures, while she was driving. She was SO nice and sweet that she told us to wait and she would take us to 2 look out points on opposite sides of the island to get pictures. One of the views was looking down on Maegan's Bay and one of the views was looking down at the port. What views!! I'll never forget those views.
Overlooking Maegan's Bay Beach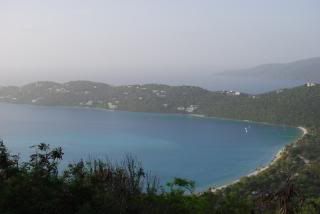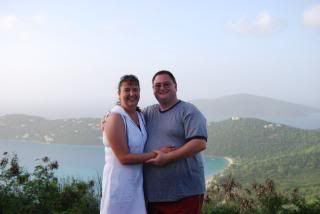 Overlooking the port.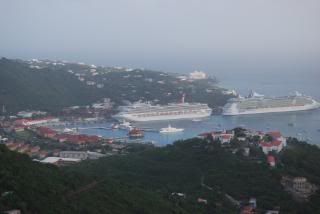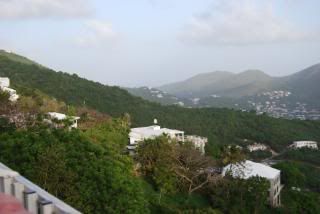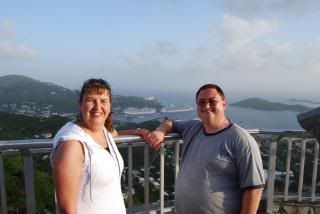 All too soon, Earline had us back at the ship. She dropped us off at the little marketplace right in front of the ships. There, Casey bought me a beautiful
Caribbean bracelet
. With much reluctance to leave St. Thomas, we boarded the ship. It was nearly 7:00 p.m., so we hustled to get ready for our dinner seating. Dinner was fabulous as usual. I had a yummy broccoli soup with grilled chicken and vegetables for dinner. They had FANTASTIC Tiramisu for dessert. Afterwards, we returned to our room. We had an early morning in St. Martin coming up.
Our towel animal that night...Puppy!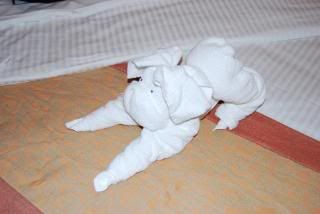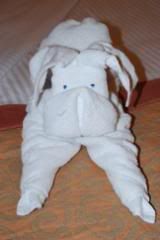 Tomorrow, St. Martin/St. Maarteen...