Our ship arrived in port at Phillipsburg, St. Martin by 7:00 a.m. Our port was on the Dutch Side. St. Martin or Sint Martin is shared by two countries. The Netherlands and France. Casey and I decided to take our time and have some breakfast at Rosie's. After we finished the business of breakfast, we made our way off the ship. Even the dock at St. Martin is beautiful. They are in the middle of a dock rebuiling project. It is very neat and clean, and the flowers are beautiful.
Our ship at the dock in St. Martin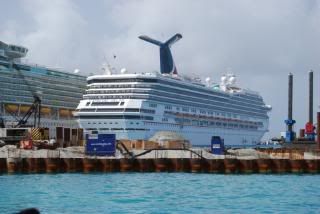 A guy playing the kettle drums at the dock.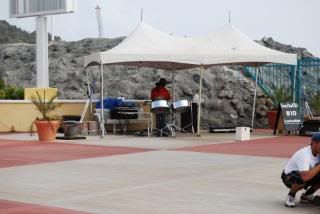 We took a water taxi across to the main shopping area to have a look at all the little shops. St. Martin's shopping district was absolutely beautiful. Right behind all of the shops, is a beautiful beach. It was the same as the port, very neat and clean. The plants were beautiful. We arrived before a lot of the shops opened, so we had a chance to look around a bit. There was not nearly as much hassling as there was in St. Thomas, so it was a lot more enjoyable. We made sure to stop by the
Yoda Guy's
shop, Planet Paradise, since we are HUGE
Star Wars
fans. Yoda guy was instrumental in helping Lucasfilm to develop the Yoda puppet.
View from the water taxi.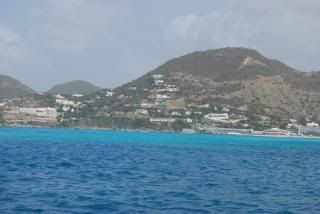 The market place in St. Martin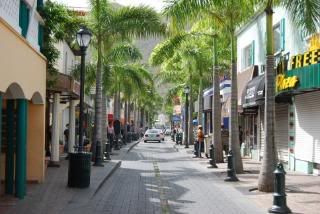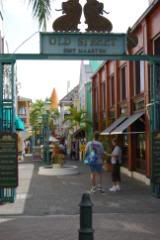 Planet Paradise...Yoda Guy's shop.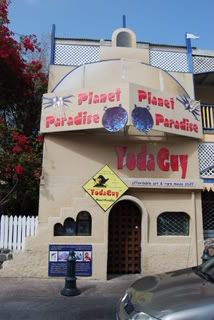 After we were finished shopping, we caught a regular taxi to Orient Beach in Marigot on the french side (St. Maarteen). Orient Beach is another one of the world's top ten most beautiful beaches. We had been warned that there was European sunbathing at this beach. There is also a totally nude beach there as well. The taxi driver dropped us off. We had to decide whether to go right or left and make our way down the beach. Wouldn't you know, that we chose right and walked right smack in the middle of the nude beach!! We hadn't even been there 5 minutes! Now, I know a lot of you are thinking, "Cool, nude beach and good looking people." Let me tell you, these are the kind of people that you don't want to see nude. Most of them were elderly too. When we realized where we were, we started going the other direction. We found a spot, in front of a little food shack. We got our lounge chairs and umbrellas and settled in for the day. Orient beach is absolutely gorgeous! It has the softest white powder sand, and the ocean is a beautiful turqoise blue. Since we rented our chairs and umbrellas from the food shack, we got 2 free drinks and 2 free shots of guavaberry liquor. Guavaberry is the thing on St. Martin. They have guavaberry everything. We tried the shots. I still don't think that I've gotten over the burn yet! We also were able to get hamburgers for lunch. The cool thing is you go up and put in your order. They then deliver it to you at your chair. How cool is that? Not the best hamburger I've ever had, but it was o.k. to stop the hunger. Orient Beach is a really good people watching spot. Casey and I just sat and lounged and watched the people go by. Oh, we did swim too. The water was nice and warm and clear. You could be neck deep and still see your feet!
Orient Beach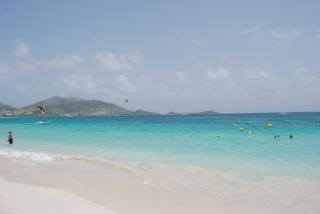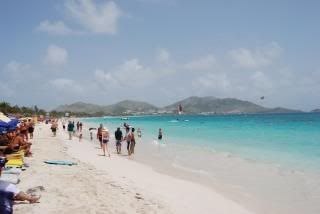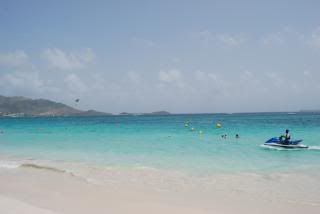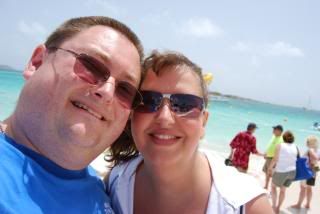 As much as we didn't want to, we had to leave the beach and make our way back to the ship. St. Martin was our last stop in the caribbean islands. It was fantastic, and I can't wait to go back someday. Tomorrow, our last 2 days on the ship at sea.....