Disembarking was VERY quick in Miami. We were off the ship, before 8:30 a.m. We did the self assist with our luggage, so we could go right straight to customs. We were back at the Fairfield by 9:30 a.m. Not bad. We got our car and made our way to Ft. Lauderdale. I have to say that Ft. Lauderdale is absolutely beautiful. We had our reservations at
The Birch Patio Motel
. We chose the Birch, because we had read excellent reviews of the place. It's family owned, along with the two adjoining motel properties. The reviews were spot on. It was one of those cute, little, old motels of the past. As Casey said, it had "kitch". They had three types of rooms: hotel, efficiency, and apt. We took the hotel. Our room had a full sized fridge, microwave, toaster, table and chairs, and enough dishes and utensils for 4 people. We LOVED our bathroom. It still had all of the original fixtures. We fell in love with the sink! The grounds of the complex were absolutely beautiful and well kept. Each of the pool areas and patios had garden or a fountain or both. They had gas grills, charcoal grills, and picnic tables too. A great place to go and stay.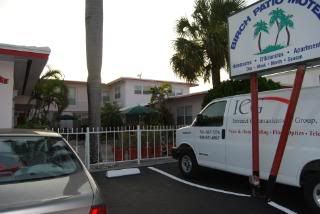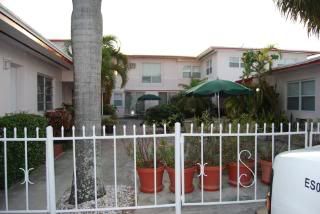 Patio areas at the Birch.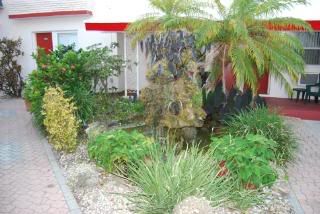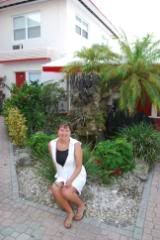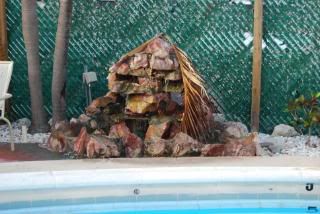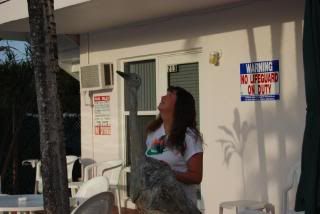 Our groovy cool bathroom sink with "kitch".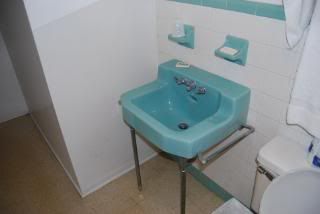 The birch was only a block or so from the beach, which was beautiful. So, we just walked to and from the beach. It was very clean and well kept as well. After our stay in Ft. Lauderdale, we drove back home. All in all, we enjoyed our whole vacation SO much!! I just can't wait to do it again!!
Ft. Lauderdale Beach