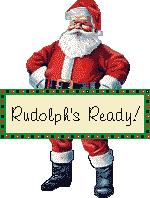 I can't believe how crazy my post from yesterday sounded. I was suffering from a splitting headache yesterday and was not making a whole lot of sense. An apology for the disjointed ideas. I did manage to relax quite a bit, after I got home yesterday. Casey had made this wonderful Fiesta Chicken Soup, which was great for the chilly weather. While he was finishing dinner off, I took Bear on his evening walk. Then we all sat down to hot soup and season 4 of Sex In the City. Casey and I went on a movie renting spree at Hollywood Video this past Tuesday. We had a bunch of coupons for 99 cent rentals that were going to expire. We got 5 movies and Sex In the City for less than $20! Needless to say, we are couch potatoes every night during dinner. It was nice to just sit and relax. I did manage to talk Casey into helping me get some of the Christmas decorations out of the attic. I'm going to start decorating the mantel and hanging garlands tonight. I really want to get everything done, and then I can concentrate on the tree this weekend. I got all of my Christmas cards addressed and ready to send. I always need one last address, so I'm calling to get it today. I have just a few extras left to get ready, otherwise that's ticked off the list. I managed to get a few more presents ordered online yesterday afternoon. Now if I can just get the decorating finished, I'll feel less stressed.
I've started my yearly ritual of listening to Christmas cds in the car. Yes folks, I'm a kook. I have a very strange taste in Christmas music. I LOVE old Christmas music. Right now, I have Nat King Cole, Dean Martin, and a Moody Blues Christmas albums on the play list. All of them are fabulous. The Moody Blues album came out last year and is called December. It's more of a winter album than just Christmas, and I HIGHLY recommend it. The other 2 are definitely Christmas oriented. You just can't beat the Nat King Cole Christmas Album, and Dean Martin's Making Spirits Bright is one of the happiest holdiay albums EVER!! I'm always looking for new Christmas cds, so if any of you have suggestions, please leave a comment. On my list to purchase is The Bare Naked Ladies Christmas album, and Christmas With the Brat Pack.
I received an e-mail today from Tails In Need. They are taking votes in the final phase of the Great American Mutt Contest. So, hop on over and read all about the finalists and their touching stories. Just click the icon below to go to the voting page!