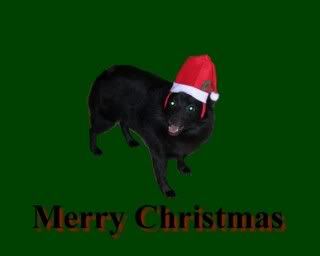 Bear says Merry Christmas everyone!
Well folks, it's that time of year. The clock is winding down on Christmas 2006. The time has gone so fast this year. Casey and I are planning a quiet Christmas at home with our family (human and furred alike). I've been asked, as in previous years, to cook the annual Christmas breakfast of Sausage, Egg,and Cheese Casserole and my famous southern Cheese Grit Casserole. Christmas is the one time of year that you'll actually find ME in the kitchen!
SAUSAGE, EGG, AND CHEESE CASSEROLE

INGREDIENTS 1 pound bulk pork sausage 6 eggs 2 cups milk 1 teaspoon salt 1 teaspoon ground mustard 6 slices white bread, cut into 1/2-inch cubes 1 cup shredded Cheddar cheese

DIRECTIONS In a skillet, brown and crumble sausage; drain and set aside. In a large bowl, beat eggs; add milk, salt and mustard. Stir in bread cubes, cheese and sausage. Pour into a greased 11-in. x 7-in. x 2-in. baking dish. Cover and refrigerate for 8 hours or overnight. Remove from the refrigerator 30 minutes before baking. Bake, uncovered, at 350 degrees F for 40 minutes or until a knife inserted near the center comes out clean.

SOUTHERN CHEESE GRIT CASSEROLE

1 C of quick grits uncooked 1 stick butter or margarine 1 tube Kraft garlic cheese 1 C milk 2 eggs 1/2 C grated parmasean cheese

Cook the grits according to package. When they're finished stir in butter and tube of garlic cheese until blended well. In a separate dish beat eggs and milk together. Stir into grit mixture. Pour into casserole dish and sprinkle parmesean cheese over top. Bake in a 350 degree oven from 50 mins. - 1 hour or until firm and cheese is brown on top. Serve and enjoy!!
We've have 10 days off from work to rest and get things done around the house. We've got an eye on a new bookcase to organize the many, many books that we have. We both still have a little shopping to do. We're in pretty good shape though, even though I still have EVERYTHING to wrap. Let the holiday fun begin!!
After today, I won't be around for a few days. I'm going to give the ol' blog a holiday too! I want to take the time to enjoy this time with family and friends. I'll check in later next week. So to everyone, a VERY Merry Christmas and Happy New Year to all of you and your families from my house to yours.