I'm finally back from all of the parade hoopla this weekend. I had meant to post an update yesterday, but it was a CRAZY day. Casey and I had an absolute blast this past weekend. The
501st Southern Outpost
represents four different states: Tennessee, Alabama, Mississippi, and Kentucky. It was so nice to get to see all of our friends from the surrounding areas. Our Christmas party on Saturday night was so much fun!! Casey and I made off with a bunch of swag and enjoyed visiting with everyone. We marched Saturday in Gallatin and Sunday in Hendersonville. Both parades were great! The crowds were so much fun, and the kids were wonderful. Here's some shots that a couple of my friends took over the weekend.

Leading the troops Saturday in Gallatin.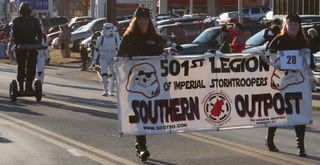 Another shot from the Gallatin parade.
Group shot of participants in Gallatin.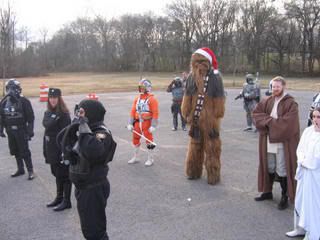 Lining up to march in Hendersonville.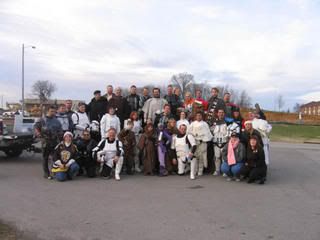 Group shot in Hendersonville.