My life has just been a whirlwind, since last Saturday. It all started with a Scorpions show last Saturday night. Casey and I saw a stop on the Scorpions farewell tour in Nashville. They were Casey's favorite band, back in high school. One of our very first dates, twenty years ago, was at a Scorpions concerts. So, they have a very special place in our hearts. We both had such a blast! It was a great show, and the Scorpions were such showmen. They performed as well as they did 20 years ago! Their sound was terrific!
In front of the Bat Building in downtown Nashville.
We just kept talking and talking about the show. We had decided earlier to take Wednesday and Thursday off from work to get some things done and spend some time together. On a whim late Tuesday night, we decided to take a look at the Scorpions tour schedule. We saw that they were playing in Atlanta on Wednesday night. We already knew we had time off, I happened to have a gift card for a free hotel room in my wallet, and there were still GREAT tickets left. So, we decided to go for it. Our hotel was REALLY nice. They even had a nice sized pool. So, I did get a little swimming workout done yesterday afternoon.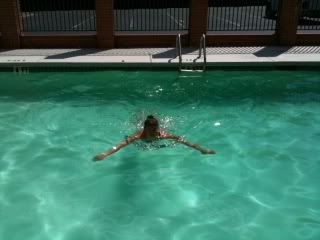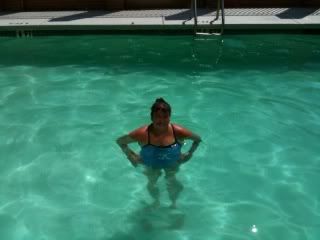 We had time to kill, before the concert started. Just a mile or so from the amphitheatre was Northpoint Mall. Casey and I grabbed a quick Japanese meal at the mall food court. We noticed all the kids had
American Girl
bags. I discovered that Northpoint Mall has one of only 8
American Girl
stores in the country. I'd always wanted to go through one, so Casey and I went in and had a look. That store was awesome with a capital A!!! It made me want to buy everything in there! Casey was really impressed too. So impressed, that he took a bunch of pictures. As soon as I get them off of his phone, I'll post them. Anyhow, we got to the venue just at the right time. It was an outdoor amphitheatre and the weather was just perfect! We got there between the opening act and the main show, found our great seats and got ready!
Our seats at the Atlanta show.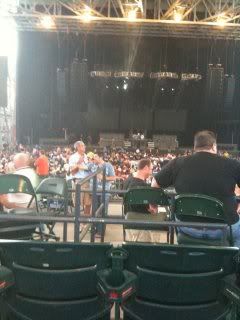 The show totally rocked!! It was great!
After the show!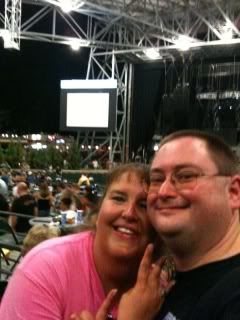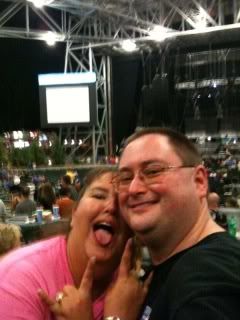 It was one of the best little last minute trips, I've had in a long time!! It turned out to be one of those