Last week, I posted a review on the
TriSwim
products. The same company,
SBR, Inc
. makes the Foggle goggle cleaner towelettes.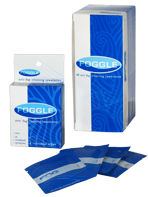 The Foggle product is made not only for de-fog and antifogging purposes. It also cleans your goggles. I've used a few antifog products and have only had temporary results with them. I used the Foggle towelette last Saturday, I've put in nearly 9,000 yards, so far this week. I'm happy to report, there's no sign of foggy lenses. That's saying something since, I've been swimming in the outdoor pool and the goggles have gone from the air temperature of 98 degrees with a heat index of 105 to the water temp of 90. As far a clean goes, it left my goggles VERY clean. There were no spots left from the evaporation of the cleaner either. Spots on my goggles ANNOY me to the Nth degree!!! In fact they left my goggles so clean, that I used the same towelette to clean my sunglasses too! The towelettes are good for around 6-8 uses, which makes them super economical too! It seems you just can't loose with Foggles!! Again, another big plus is that SBR does not do animal testing, which makes me even happier with their products!! So, if you're swimming and looking through those foggy lenses, visit the
SBR, Inc. website
and pick up some Foggles. Foggles come in packs of 6 for $6.89 or in giant boxes of 48 for $34.56.