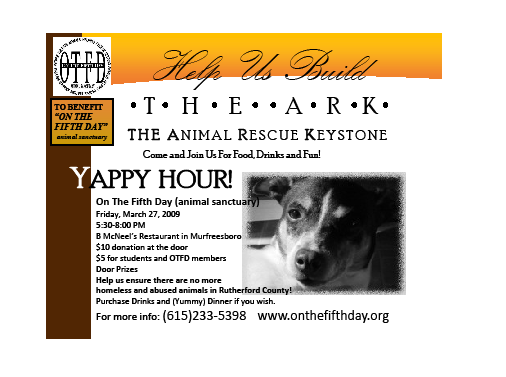 Friday, March 27th 5:30 p.m. until 8:00 p.m. B McNeel's Restaurant in Murfreesboro Tickets $10.00 at the the door $5.00 for students and OTFD members
This is a cause that I fully support.
On the Fifth Day
is working hard to build a middle Tennessee animal sanctuary, where animals can live out the rest of their lives, if they are not adoptable. They also rescue abused and abandoned animals. Yappy Hour is to raise funds for the construction of the sanctuary. Here's what On the Fifth Day's founder, Jen Hilsher, says:
In ten years, On The Fifth Day will be the largest sanctuary in the country and is absolutely necessary due to the number of healthy animals being killed in shelters, basically due to having no infrastructure or system, ignorance about certain breeds (Pit Bull Terrier) and a low groundswell to help our area's homeless and abused animals. I founded the no-kill sanctuary in 2003 and created it as a 501(c)3 non-profit. The A.R.K. (The Animal Rescue Keystone) was developed this year -- 2009 -- as our fundraising "flagship" to spearhead our fundraising efforts of raising $100,000 which is desperately needed to begin this venture. Nothing is impossible or out of reach for this sanctuary. We will have no more homeless animals due to the cooperation of many concerned animal activists, vets, and other dedicated parties. Please visit our web site to learn more about us. www.onthefifthday.org
This event is always so much fun. So, come on out and meet other animal lovers and support a great cause at the same time! For more information on On the Fifth Day, click
HERE
.
Pictures and quotes used with exclusive permission by On The Fifth Day