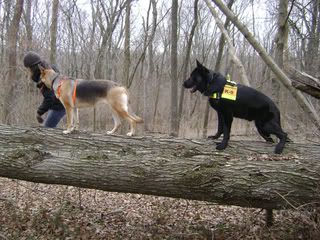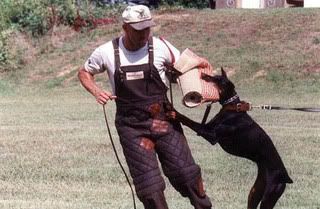 We would like to welcome more special guests this year, the group from
Nashville K9
. Ali Hemyari and his group will be bringing his specially trained police canines and search and rescue dogs. Here's a little about Ali and his team: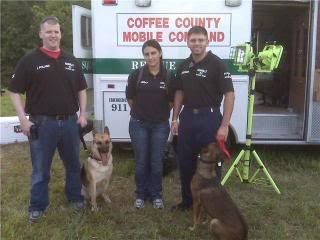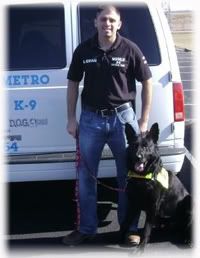 "WE HAVE BEEN IN THE DOG TRAINING, HANDLING, AND PERSONAL INSTRUCTION INDUSTRY FOR OVER 25 YEARS! PREVIOUS TO OUR BEGINNINGS, WE WERE MEMBERS OF SEVERAL K-9 ORGANIZATIONS THAT INVOLVED ANYWHERE FROM OBEDIENCE TO POLICE STANDARD K-9 TRAINING. OUR COMPANY'S FIRM BELIEF THAT WORKING DOGS SHOULD WORK, CONTINUES TO MOTIVATE US TO CONSTANTLY PRODUCE AN OUTSTANDING PRODUCT FOR OUR CUSTOMERS."
Their trainers have trained and worked with many law enforcement agencies throughout the state, which include: Davidson County Rescue Squad K-9 Unit, Chief K-9 Instructor Nashville Fire Department, Search and Recovery Tennessee Urban Search and Rescue (USAR) Task Force 2 Tennessee Association of Rescue Squads, Member Franklin County, TN Rescue Squad K-9 Unit, Captain Police Benevolent Association (PBA), Member - Capitol Hill Chapter Fraternal Order of Police (FOP), Member, Williamson County Chapter Appalachian K-9 Club, Member TN Valley DVG Schutzhund, Member TN Valley Working Dogs, Member Nashville K-9 Police and Schutzhund Club, Member Intelligent K-9, Owner Nashville K-9, Owner Co-Director Jackson County (OK) Search & Rescue Team Firefighter, Martha (OK) Fire Dept., Winchester, TN Fire Dept. Tennessee Search and Rescue Dog Association, Middle TN Regional Coordinator Member, National Association for Search and Rescue (NASAR) K-9 SARTECH EVALUATOR FOR NASAR Licensed State of TN Police Dog Vendor They will be doing two demonstrations during the day. One will be criminal apprehension and the other will be a search and rescue demonstration.
One program will be at 10:30 a.m. immediately following Celebration Pet Day kickoff. The other will be at 12:30 p.m.
So, come on out and join us for these unique demonstrations.
**Photos used by exclusive permission by Nashville K9.