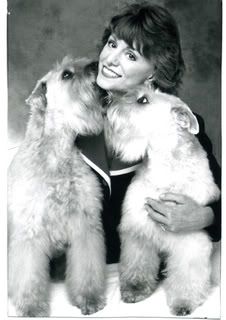 This year, we are pleased to have Cythia Hollis of
Sit and Stay Dog Training Center
with us. Cynthia's program is called:
Foundation of Training
. This program gives tips and techniques of obedience training. Cynthia will demonstrate with participants and dogs from the audience. Her program is scheduled for
1:00 p.m..
More on Cynthia Hollis: Cynthia Hollis has turned her love of dogs into a dream come true... that of her full-service dog care facility known as SIT & STAY Dog Training Center. After acquiring her first dog in 1974, a German Shepherd named "Freedom", Cynthia learned she had a natural knack for training dogs. In 1978 she earned her first obedience title (C.D.) with her German Shepherd named "Greta" and was hooked from that moment on. She continued with Greta's training, earning the next level (C.D.X). At the same time she became interested in breed competition (conformation) with an Akita, after earning his C.D. as well as several breed points. Since 1981 however, the breed that has become her passion and dedication has been the Soft Coated Wheaten Terrier (www.HollywoodWheatens.com). Through this very sensitive-tempered breed, Cynthia has learned that harsh methods do not work with this breed, nor does she believe any other dog needs to perform through force or fear. Only gentle and positive methods are used to help your dog understand what it is you want. Cynthia has earned over two dozen performance titles in Obedience, Agility, and Rally as well as having bred several Champion Soft Coated Wheaten Terriers, including the #3 Wheaten in Canada in 1996: Am.Can.CH. Hollywood's Just in Case. She has also bred and trained the first Wheaten terrier in history to earn the U.D.X (Utility Dog Excellent) title with Hollywood's Happy Jack,(www.HollywoodWheatens.com) who was the #1 Obedience Wheaten in 1994. "Jack" remains the only Champion UDX in Wheaten history. In addition, Jack's grandson "Dagwood" (CH. Hollywood's Dagwood Bumstead CD RAE NA NAJ) was the first Terrier in the country to earn the R.A.E. (Rally Advanced Excellent) in 2005. CREDENTIALS AND EXPERIENCE Cynthia Hollis has been teaching obedience classes since 1997. She opened SIT & STAY Dog Training Center in 2002 with the purchase of a building in Christiana, TN for year-round use. Her experience includes: *Earning over 2 dozen performance titles in Obedience, Agility, and Rally, as well as, numerous Champions, all breeder/owner handled *Certified in Pet First Aid with the American Red Cross *Member MOTC (Murfreesboro Obedience Training Club) since 1989. Past vice president, class instructor, and Steward at numerous trials *Certified AKC evaluator for the Canine Good Citizen Program (www.AKC.org) *Member of IACP, International Association of Canine Professionals (www.IACP.com) *Judged dozens of Obedience matches in the Southeast *Regularly holds Obedience matches and SIT & STAY *Member APDT, Association of Pet Dog Trainers (www.APDT.com) *Two of her Wheatens have been registered therapy dogs with Therapy Dogs International (www.tdi-dog.org) *Has applied to be a TDI Team Evaluator (www.tdi-dog.org) *Member Soft Coated Wheaten Terrier Club since 1999 (www.SCWTCA.org) *Currently offers the "Happy Jack" Obedience Award for SCWTCA *Involved in Wheaten Terrier rescue efforts *Has had two of her Wheatens (mother and son) each play the part of "Sandy" in the play "Annie" with two different local theater productions CIVIC INVOLVEMENT *Member Rutherford County Chamber of Commerce *Donates thousands of dollars in merchandise and services each year to: PAWS Animal Shelter, Beesley Spay/Neuter Clinic, Habitat for Humanity, Special Kids,Heart GALA, Starry Night at St. Rose of Lima, Boys and Girls Club, Discovery House, On the 5th Day Animal Sanctuary *Regularly visits nursing homes with her dogs doing pet therapy with patients *Speaks at schools to children about responsible pet ownership *Does obedience demonstrations at public and private affairs *Has chaired the MOTC Christmas parade and walked with her dogs in every parade since 1989
Please come out and join us for Cynthia's program!
**Photographs and biography used with exclusive permission of Cynthia Hollis.