Well as my mother says, "it's almost all over but the cryin' now". The long one and half year wait for this cruise is almost at end. We still have more than our fair share of the C-R-A-Z-Y at our house, but it is a bit more subdued today. I'm happy to report that I got the bulk of the packing done last night, including our passports. I still have a HUGE fear of forgetting those! In fact I packed SO well, that I didn't leave out anything to wear to work today. So, I look a bit like a slacker. Picture this: jean capris, 5K t-shirt, and my running shoes. I look like a bit like I've already left for vacation huh? All that's left to pack is our toiletries (which will be needed, before we leave tomorrow) and our formal wear. Everything else, including our shoes, swimsuits, and beach towels are ready to go! Canna get a big 'ol WOOT?!!! Up until our first cruise, Casey and I had been B-I-G trip procrastinators. In fact, we'd be packing our bags at the exact time we told everyone we'd be leaving the house!! So to say it nicely, we were a little unorganized. That changed with the cruise. We realized that there were no Wal-Marts in the middle of the Atlantic Ocean and paying a taxi on an island to get you to one was impractical. So in one trip, we became uber organized. We've stayed that way ever since. On the agenda for today? Well, Casey has to pick up his suits that we've had altered. He's also going to look for some new dress shoes, since we discovered the cats had used the ones he had as scratching posts (damned clawed felines!). This afternoon, we are dropping the 3 puppies off at our friend's house, where they are staying while we're gone. She has a fenced yard, so they will get to romp and play, have extra treats, and generally be spoiled for the whole time!! Once I get over the tears from that, I'll be ready to proceed with the FUN!!! The older dogs always behave really well at home, and Mom will be dogsitting for us. I imagine that Jack will spend a lot of time at Grandma's and be SO fat when we get back, he'll just rock around on his belly with his legs sticking out. He adores his Grandma! I have a sneaking suspicion that the feeling is mutual.
Jack and his grandma
.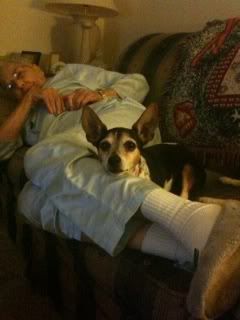 After we get back from that, it's the last minute packing and prep. Casey and I have a big stack of papers about the beaches on the islands of Antigua and Tortola. We're trying to decide which beaches that we want to spend the day at. We are also trying to decide if we want to try our hand at snorkeling. Supposedly, Anigua is a great place to snorkel, since there are so many coral reefs there. SQUEEE!!! I'm so excited by just thinking about it all, that I can hardly sit still. Maybe it's a good thing that I wore my running shoes today. Maybe a good run this afternoon will help. I just hope that I can get a good night's sleep for the long drive tomorrow and Friday. I'll be posting updates from the road and Ft. Lauderdale, before the cruise, so keep checking back!