Ah, Fall Break. This year, I'm actually taking it with the students too. Well, mom has dr.s appointments on both Monday and Tuesday, but I'm still not at work. I don't have much planned intentionally. I just want to rest and relax. I haven't had a lot of down time lately, and I'm really starting to feel it. The only thing I really have planned is to go to Nashville Humane Association's Dog Dayz Festival tomorrow.
. I'm going there partly for research and partly for fun. I want to network with other humane folks and make connections and get really good ideas of what works for them and what doesn't. I'm also going to have fun and to get Shingo out of the house. So, if you see this dog: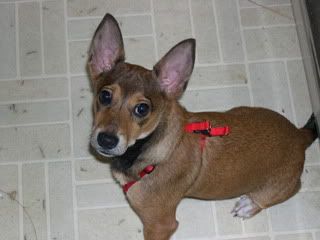 I'll be attached to the other end of the leash. Other than that, I have several days of book reading, movie watching, and lounging to catch up. I'll be back on Wednesday. Everyone have a great weekend!