The last couple of weeks have just been a whirlwind! This is the end of the semester, so things are really wild at work and in class. Last week, was really CRAZY for me. I had my skills test in my Water Safety Instructor class, the Masters Swim Club had to attend the Sports Club Awards Banquet, then the next day was the Awards Ceremony!
The Masters Swim Club was presented with a Service Award for having the most community service of any of the Sports Clubs. We were also awarded with an Outstanding Sport Club Award for 2012. Our Coach, Katie, and Morgan, one of our new officers, attended the banquet with me. We had a great time!
Me, Morgan, and Katie at the banquet with our awards.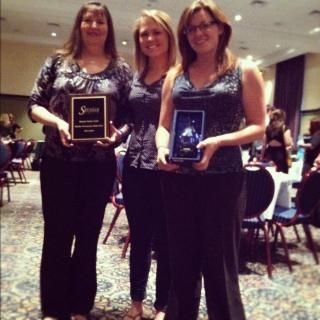 Our Outstanding Sport Club Award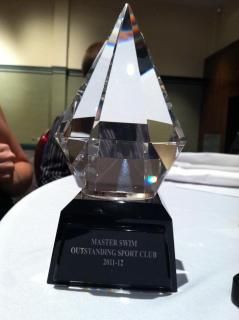 Back in March, I got a letter telling me that I had received the Nancy Hill Robertson Scholarship Award! I am so excited. This scholarship is going to pay for me to go to school full-time for the next year and finish my degree in Recreation Administration! Last Wednesday, the College of Behavioral and Health Sciences held their Awards Ceremony, where I was awarded the scholarship.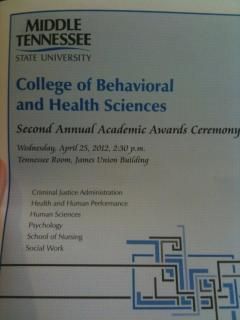 Me and my advisor, Dr. Joey Gray, at the Awards Ceremony.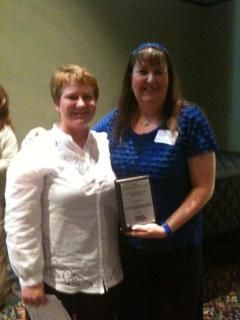 My Award.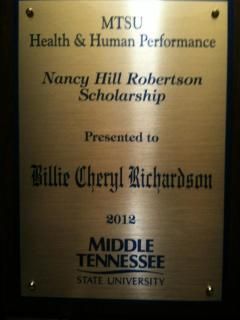 This week is finals week, so I took my final in WSI class. I've also spent the week, tying up loose ends and getting my summer class schedule set. I have a whole week break, before my May-mester class starts. The good thing is that it only lasts 10 days. I also have a class in June. Once that's over, I get an almost 2 month break, before fall classes! Looks like another busy summer for me!