Seems like it's been forever since I posted here. The past 5 months have been horrendous, to say the least. My mother was diagnosed with terminal brain and lung cancer. It was quick and VERY aggressive. My husband, Casey, and I pretty much put our lives on hold to see to her care. Sadly, Not nearly 3 months after diagnosis, she passed away. It's a very strange, new reality.
My swim teammates have really kept me going throughout the whole ordeal. I think if I hadn't had a swimming pool, I would have jumped off a cliff by now. Just a month after Mom's passing, the team took a big trip to the 4th Annual Rowdy Gaines Masters Classic in Orlando, Florida. It was a three day meet. All of us piled into 2 cars and took off. We had SO MUCH FUN!! In addition to the beautiful October Orlando weather, the meet was terrific too! It was the biggest Masters meet that I've ever attended, so it was a challenge to get my anxiety under control.
I got the opportunity to be a total fangirl and meet Rowdy Gaines! He is such a nice and genuine guy. He didn't mind at all the fan adoration and took time out with anyone who wanted to meet and chat with him. It turned out to be great fun, and I'm SO glad that I got to go! Here are some shots of us at the meet.
Me and Rowdy Gaines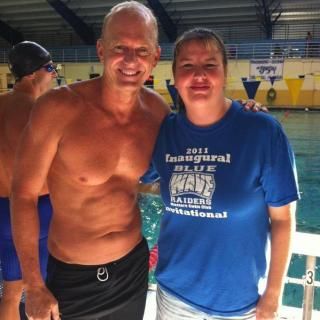 Me and Katie just being really silly and pretending we had no pants on!!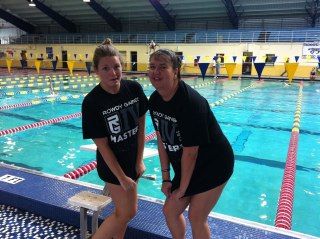 Me, Katie and Pam getting ready for our 50 Breaststroke event!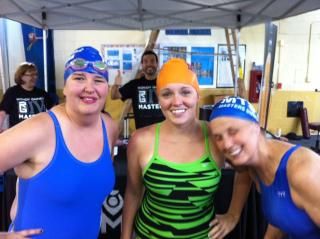 On deck for the backstroke!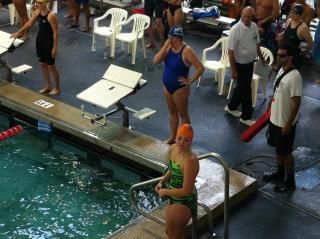 Definitely need to work on my arms!!