Well, I finally have my very first swim meet under my belt. We had to be at the Maryland Farms YMCA at 6:00 a.m. for warmup. I got everything packed up and ready on Friday night, so I could jump up and go on Saturday morning. Casey was nice enough to drive me there and come out and cheer me on. We left the house at 4:30 a.m.!! Since there was no traffic out that early, we got to the Y by 5:45. They were a little late unlocking the door, but it all worked out o.k. I did about a 300 meter warmup. My flipturns were coming easily, so I decide to stretch some and not wear myself out. I ended up swimming 4 events. I swam the 50m free, the Crescendo Relay, the Freestyle Relay, and the Wet T-Shirt Relay. We were scored by teams. I was on the Red Team. We did really well, but ended up losing the meet by only 2 points. It was a "just for fun" meet, and we all had a really good time. They had really nice snacks and drinks and all the team members were just fantastic. My coach almost has me convinced to swim another meet in January. We'll see. Here's some pictures from the meet.
50m Free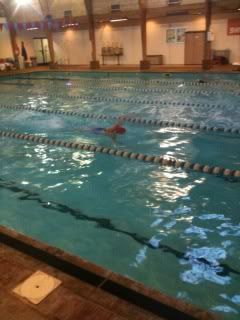 Under water, after my flip.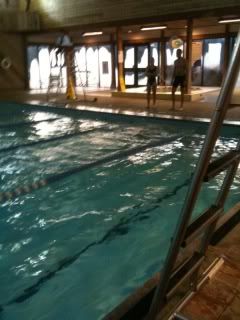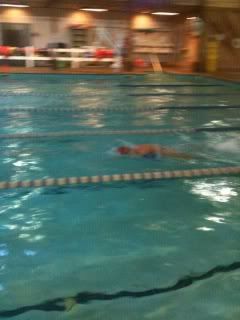 Crescendo Relay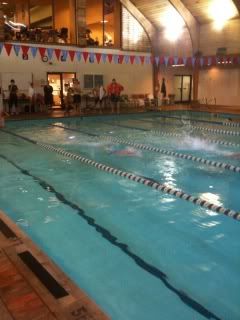 Wet t-shirt relay.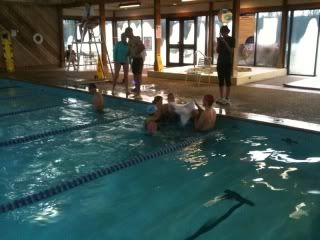 Happy that I made it through.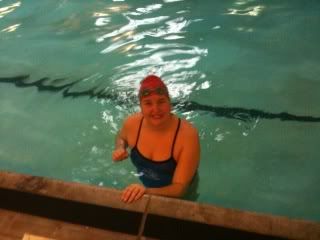 Afterwards, I just lounged around the house, but as a treat, I watched the USMS short course yards Nationals. More swimming!! Gotta love it!