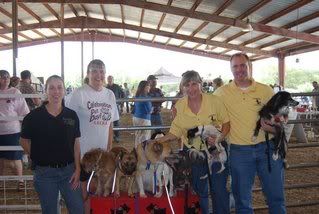 Jennie Jones (Kindred Spirits Dog Training and Boarding), Me, The Comedy Canines, Dawn and her husband at Celebration Pet Day.
We all had a FANTASTIC time at pet day this year! We had a big crowd of people, and it looked like everyone enjoyed themselves. I actually got to see more of pet day this year, than any other year. I was especially happy that I got to see all of
The Comedy Canines
performance! They were SO good, and their trainer, Dawn, was a really sweet person. I'm hoping that they'll come back again next year. I got a lot of feedback, while I was there this year. Everyone seemed to really enjoy all of the programming too. I've spent the last three days trying to rest up. I was VERY exhausted, after everything was over. I had worked out at the Ag Center on Thursday night, most of the day Friday, and of course all day on Saturday. I don't think I accomplished anything on Sunday, except to wake up. I got up out of bed and went straight to the couch. That's where I stayed, until time for bed! Anyway, I'm glad that everything went smoothly. It won't be long, before we start planning for next year. To see my photo album from pet day (come on...you know you want to see the donkies, goats, horses, cats, dogs, etc.) click
HERE
.