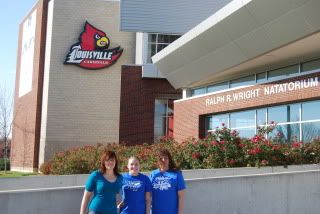 Katie, Erica, and me at the Louisville Invitational.
This past Sunday, the
MTSU Masters Swim Club
attended the Louisville Invitational Swim Meet in Louisville, KY. This was my first big, sanctioned swim meet through
United States Masters Swimming.
Four team members attended. It was such great fun! I entered the 100 meter Backstroke, the 50 meter Backstroke, and participated in the 200 meter Freestyle Relay. I'm glad to say that it was a very low stress meet, and I didn't freak out at all. On the 100 Backstroke, I missed a turn and was disqualified. I was pretty disappointed about that, but that's one reason that I had decided to swim the 100. I figured that would give me enough time to get in the pool, calm down, and figure everything out, since it was my first event. Good thing I did. I was much better in the the 50 meter Backstroke. I actually came in 2nd in my age group. The relay was sooooo much fun. I was really apprehensive about doing it, since I'd only known we were entered a couple of days beforehand. I've never done relays, so I had no idea about relay starts. We ended up doing really well, and I swam a relatively fast 50 free for me. We were the only all female relay team. The other teams were mixed. We ended up taking first place in our age group!! WOOT!! I'm glad that I've got one behind me now. I'm really looking forward to the next couple of meets! My 50 meter backstroke. I'm in the far lane at the top. Our 200 meter freestyle relay. The video will zoom in on us! I'm the second swimmer!