I know that a lot of folks don't really care for Valentine's Day. I'll admit, since Casey and I have been together for 19 years, it has lost just a bit of it's luster. This year, for the first time in quite a few, we have Valentine's dinner reservations. We are going to one of my very favorite restaurants, The Omni Hut. It's a little, home owned Polynesian restaurant. We haven't been there in several years, and I'm really excited!! I also got my presents from Casey a few days early. He got me a new Speedo swim bag, and some of my very own training fins. He supports me in my goal to go to the U.S. Master's Swimming Short Course Nationals this coming May. I have LOTS of work to do to get ready. Another treat that I'm getting tonight, is he's agreed to watch Romeo and Juliet (The 1968 version, my fav) with me again tonight. I just can't seem to celebrate Valentine's Day without it!!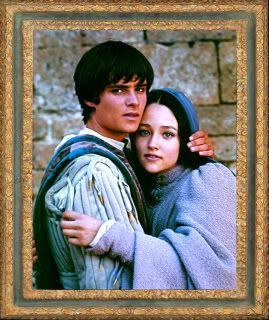 The balcony scene is just so beautiful:
Needless to say, I'm looking forward to this weekend. Happy Valentine's Day, everyone!