I had my DVR set and ready to go, but I still got up at 3:00 a.m. this morning! Being a history major, I just couldn't miss the history, while it was happening! I had to watch the Royal Wedding of Prince William and Kate Middleton! I just went gaga over the wedding dress and ceremony! Even Casey got up to watch!! That really shocked me! We did enjoy watching together. I managed to get to see the whole ceremony, up until they got in the carriage procession. I made it to work just in time to see them come out onto the balcony and kiss!
I had read their wedding program yesterday and was very curious about the ceremony. See, Casey and I are renewing our wedding vows tomorrow (Saturday, April 30th) to celebrate our 20th year together. There were several of the same songs and scriptures we had picked for our ceremony, that were in the Royal Wedding today. So, you can imagine that I am REALLY pumped about our ceremony tomorrow!
The puppies, bless their hearts, tried to stay up as long as they could, but by the end, this is what Indy ended up looking like!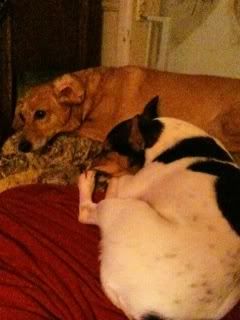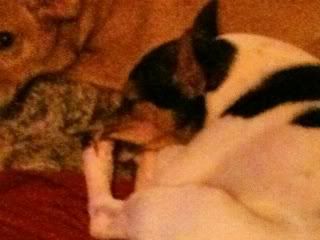 I found this really cool web site about the Royal Dogs through the years. I've posted it in honor of the happy couple:
Royal Wedding Pets